Stamp, coin and postcard auctions since 1974
Buy and sell your stamps, covers, picture postcards, coins, medals and paper money.
A specialized auction house often guarantees the best results. Partner in the Global Philatelic Network.

Auction 233-236: 10, 16 & 17 March 2018
The upcoming spring auction is particularly varied in its content thanks to the inclusion of some large specialised collections. The auction will be held over three days. View the auction and viewing schedule.
VIEW THE ONLINE CATALOGUE with more than 15,000 high quality images
of collection pages, front and reverse sides of single lots and certificates.
Auction 233
Auction 234
Auction 235
Auction 236

Stamps - general sale



Coins & postcards



Postal History WWII -
The Stefan Drukker
Collection

Netherlands Colonies -
The J.F. de Beaufort Collection

Some highlights:
Netherlands Colonies - The J.F. de Beaufort Collection
Pre-philately French military post in the Netherlands
Postal History of WWII - The Stefan Drukker Collection
International Air Mail
Postal History of Albania
Large number of single lots and collections of China
Large specialised collection on the theme of animals
Dutch East Indies banknotes overprinted "SPECIMEN"
EDITION D'OR vol. 51
The development of postal services in rural areas in the Netherlands over a period of 270 years is exquisitely shown by postal historian Hotze Wiersma in a philatelic-scientific manner. A beautiful book showing a collection that was awarded Large Gold.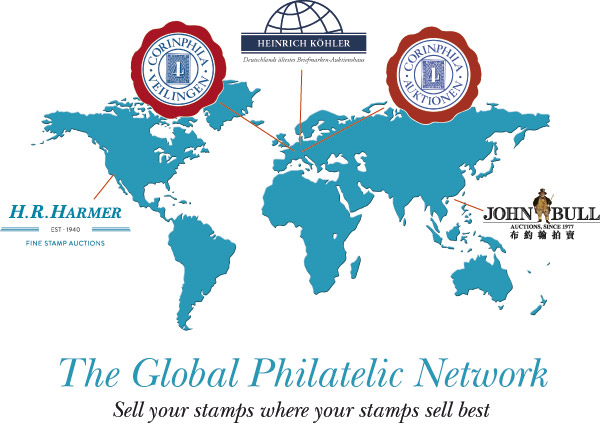 Global Philatelic Network Auctions
Company & Country

Next Auctions

Consignment Deadline

Corinphila Switzerland
Switzerland's Oldest Stamp Auction House.
Founded in 1919

30 May - 2 June 2018
28 November - 1 December 2018

31 March 2018
30 September 2018
Corinphila Netherlands
Fine Stamp Auctions since 1974
10 & 16-17 March 2018
15 & 20-22 September 2018
-
15 June 2018
Heinrich Koehler, Germany
Germany's Oldest Stamp Auction House.
Founded in 1913

19-24 March 2018
25-29 September 2018

-
15 July 2018
H.R. Harmer, USA
Founded in 1940
10-12 May 2018
25-27 October 2018

1 March 2018
7 September 2018

John Bull, Hong Kong
Hong Kong's Oldest Philatelic Auction House.
Founded in 1977
23-25 June 2018
15-17 December 2018
31 March 2018
30 September 2018