Stamp, coin and postcard auctions since 1974
Buying and selling of stamps, covers, picture postcards, coins, medals and banknotes.
A specialized auction house usually guarantees the highest results. Partner in the Global Philatelic Network.
Auctions 242-243 | 14 & 19-21 September 2019
Consign now for our much promising autumn auction 2019, incl. Netherlands 1852 - the Gerard van Welie collection.
Consignment deadline: 15 June.*
* Our office is closed on:
Thursday 30 May (Ascension Day), Friday 31 May, Monday 3 June and Monday 10 June (Whit Monday).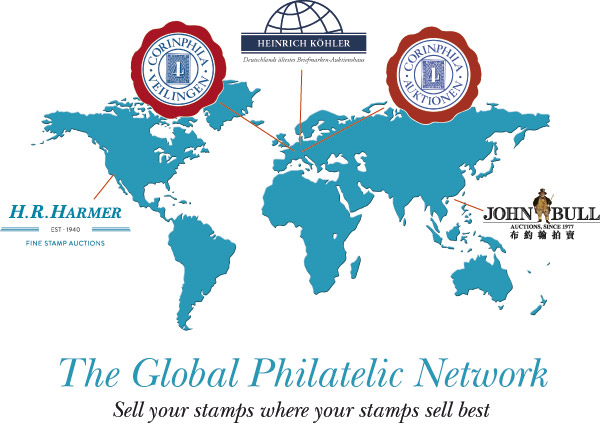 Global Philatelic Network Auctions
Company & Country

Next Auctions

Consignment Deadline

STOCKHOLMIA 2019 RARITY AUCTION
The 150th Royal Philatelic Society London Birthday-Sale
1 June 2019
-
Corinphila Switzerland
Switzerland's Oldest Stamp Auction House.
Founded in 1919

11-15 June 2019
3-7 December 2019

-
15 September 2019
Corinphila Netherlands
Fine Stamp Auctions since 1974
14 & 19-21 September 2019
15 June 2019

Heinrich Koehler, Germany
Germany's Oldest Stamp Auction House.
Founded in 1913

8 June 2019

17-21 September 2019

German States - 1 ERIVAN-Auction
1 July 2019

H.R. Harmer, USA
Founded in 1940
22 June 2019

October 2019

United States - 1 ERIVAN-Auction
31 July 2019

John Bull, Hong Kong
Hong Kong's Oldest Philatelic Auction House.
Founded in 1977
15-17 June 2019
December 2019
-
September 2019