Stamp, coin and postcard auctions since 1974
Buying and selling of stamps, covers, picture postcards, coins, medals and banknotes.
A specialized auction house usually guarantees the highest results. Partner in the Global Philatelic Network.
We welcome your consignments for our spring auction 2019!
Autumn auction: 15 & 21-22 September 2018
Online live bidding is a unique service we offer to our clients. New clients are required to register and to request
an appropriate credit limit once. Registration for an auction should be done at least 24 hours before the actual
auction. If later, access cannot be guaranteed. In our manual you find the instructions and tips.

You can also follow the auction without registration (no bidding).
You see and hear the auctioneer. As a pop-up when following the auction.
ATTENTION!
- We recommend to use Google Chrome as your internet browser.
- If your screen goes into "sleep" mode, you can best activate it with your mouse.
Pressing the enter or space keys could possibly lead to a bid.
- You cannot use the bidding program simultaneously on multiple devices
Unopened letter to Otto Frank in Autumn auction
Read the press release.
EDITION D'OR vol. 51
In the fragmented starting point of postal history in the Netherlands the comparatively powerful city set the rules and, in the Republic, that meant Amsterdam. Services for the rural population were for a long time unprofitable, and thus, absent. The development of postal services in rural areas in the Netherlands over a period of 270 years is exquisitely shown by Wiersma in a philatelic-scientific manner.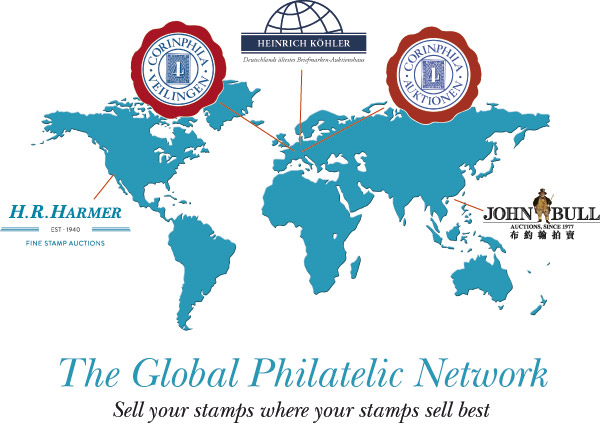 Global Philatelic Network Auctions
Company & Country

Next Auctions

Consignment Deadline

STOCKHOLMIA 2019 RARITY AUCTION
The 150th Royal Philatelic Society London Birthday-Sale
1 June 2019
15 March 2019
Corinphila Switzerland
Switzerland's Oldest Stamp Auction House.
Founded in 1919

26 Nov. - 1 Dec. 2018
June 2019

30 September 2018
March 2019
Corinphila Netherlands
Fine Stamp Auctions since 1974
15 & 20-22 Sept. 2018
16 & 21-23 March 2019
-
31 December 2018
Heinrich Koehler, Germany
Germany's Oldest Stamp Auction House.
Founded in 1913

25-29 September 2018
26-30 March 2019

-
15 January 2019
H.R. Harmer, USA
Founded in 1940
25-27 October 2018
June 2019

-
March 2019

John Bull, Hong Kong
Hong Kong's Oldest Philatelic Auction House.
Founded in 1977
15-17 December 2018
June 2019
30 September 2018
March 2019