Stamp, coin and postcard auctions since 1974
Buying and selling of stamps, covers, picture postcards, coins, medals and banknotes.
A specialized auction house usually guarantees the highest results. Partner in the Global Philatelic Network.

Auction 239-240 | Aftersale
In the online catalogue you are currently viewing our unsold lots. These lots may be purchased for the starting price plus buyer's fee, subject to availability.

On Monday 25 March our office is closed.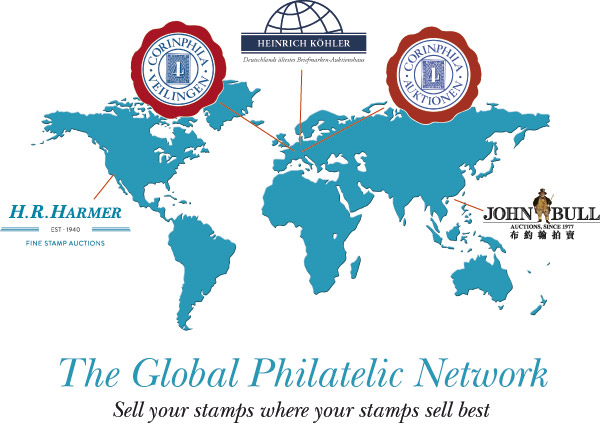 Global Philatelic Network Auctions
Company & Country

Next Auctions

Consignment Deadline

STOCKHOLMIA 2019 RARITY AUCTION
The 150th Royal Philatelic Society London Birthday-Sale
1 June 2019
-
Corinphila Switzerland
Switzerland's Oldest Stamp Auction House.
Founded in 1919

11-15 June 2019
3-7 December 2019

-
15 September 2019
Corinphila Netherlands
Fine Stamp Auctions since 1974
11 May 2019
12-14 & 21 September 2019
Model Cars
15 June 2019

Heinrich Koehler, Germany
Germany's Oldest Stamp Auction House.
Founded in 1913

26-30 March 2019
8 June 2019
17-21 September 2019

-
German States - 1 ERIVAN-Auction
1 July 2019

H.R. Harmer, USA
Founded in 1940
4-6 April 2019
22 June 2019
October 2019

-
United States - 1 ERIVAN-Auction
31 July 2019

John Bull, Hong Kong
Hong Kong's Oldest Philatelic Auction House.
Founded in 1977
15-17 June 2019
December 2019
31 March 2019
September 2019