Stamp, coin and postcard auctions since 1974
Buying and selling of stamps, covers, picture postcards, coins, medals and banknotes.
A specialized auction house usually guarantees the highest results. Partner in the Global Philatelic Network.

Next auction: 15 & 20-22 September 2018
The next auction takes place on 15 & 20-22 September 2018 and will again attract international attention with a.o.:
Extraordinary single lots of Netherlands and former colonies with many rarities!
Netherlands 1867 issue and further - the never exhibited parts of the Dr. A. Louis collection;
Postal History of World War 2 from the Stefan Drukker collection (Part 2);
Dutch East Indies banknotes overprinted "SPECIMEN" (Part 2).
NETHERLANDS 1867 ISSUE AND FURTHER
the never exhibited parts of the Dr. Albert Louis collection
EDITION D'OR vol. 51
In the fragmented starting point of postal history in the Netherlands the comparatively powerful city set the rules and, in the Republic, that meant Amsterdam. Services for the rural population were for a long time unprofitable, and thus, absent. The development of postal services in rural areas in the Netherlands over a period of 270 years is exquisitely shown by Wiersma in a philatelic-scientific manner.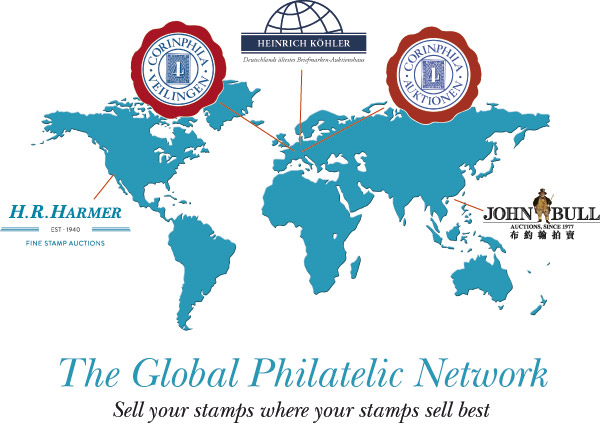 Global Philatelic Network Auctions
Company & Country

Next Auctions

Consignment Deadline

STOCKHOLMIA 2019 RARITY AUCTION
The 150th Royal Philatelic Society London Birthday-Sale
1 June 2019
15 March 2019
Corinphila Switzerland
Switzerland's Oldest Stamp Auction House.
Founded in 1919

26 Nov. - 1 Dec. 2018
June 2019

15 September 2018
March 2019
Corinphila Netherlands
Fine Stamp Auctions since 1974
15 & 20-22 Sept. 2018
16 & 21-23 March 2019
Ended
31 December 2018
Heinrich Koehler, Germany
Germany's Oldest Stamp Auction House.
Founded in 1913

25-29 September 2018
26-30 March 2019

-
15 January 2019
H.R. Harmer, USA
Founded in 1940
25-27 October 2018
June 2019

7 September 2018
March 2019

John Bull, Hong Kong
Hong Kong's Oldest Philatelic Auction House.
Founded in 1977
15-17 December 2018
June 2019
30 September 2018
March 2019