Stamp, coin and postcard auctions since 1974
Buying and selling of stamps, covers, picture postcards, coins, medals and banknotes.
A specialized auction house usually guarantees the highest results. Partner in the Global Philatelic Network.
Consign Now for our Spring 2021 Auction!
BENEFIT TOO FROM THE TOP RESULTS THAT ARE CURRENTLY BEING ACHIEVED!
Therefore if you are thinking of consigning, this would be the ideal time!
While society and the economy are currently being disrupted by the measures against the corona virus,
TOP PRICES
are currently being realised in the philatelic and numismatic collecting worlds.
Contact us today to have your rarities and collections included in our international spring auction. You could send us your consignment by registered mail; it will be fully covered by our insurance. For larger consignments we are happy to come to visit you at your home without obligation.
Corinphila Official Sponsor of Exhibitions
Global Philatelic Network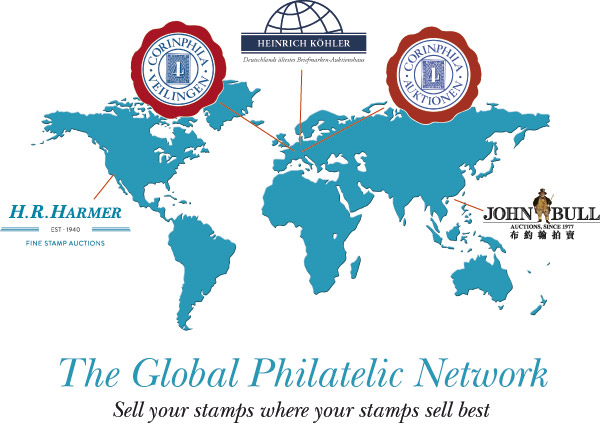 Global Philatelic Network Auctions
Company & Country

Next Auctions

Consignment Deadline

Corinphila Netherlands
Fine Stamp Auctions since 1974

8-10 April 2021
16-18 September 2021

-
15 June 2021

Corinphila Switzerland
Switzerland's Oldest Stamp Auction House.
Founded in 1919

25-30 January 2021
7-12 June 2021

-
15 April 2021

Heinrich Koehler, Germany
Germany's Oldest Stamp Auction House.
Founded in 1913

19-24 April 2021
21-25 September 2021

15 February 2021
15 July 2021

H.R. Harmer, USA
Founded in 1940
May 2021
November 2021

15 March 2021
15 September 2021

John Bull, Hong Kong
Hong Kong's Oldest Philatelic Auction House.
Founded in 1977

18-20 June 2021
December 2021

30 March 2021
15 October 2021