Stamp, coin and postcard auctions since 1974
Buying and selling of stamps, covers, picture postcards, coins, medals and banknotes.
A specialized auction house usually guarantees the highest results. Partner in the Global Philatelic Network.
Important information Auction 244!
During the viewing days we take various precautions;
Viewing is only possible by appointment;
Extra viewing days;
The auction days are not open for the public (bid methods);
After sale will take place online;
Collecting your purchases only by appointment.
Please find here further details.
Auction 224: 11-13 June 2020
Viewing and auction schedule
Some highlights:

* Netherlands pre-philately with extensive departementstempels
* Netherlands Indies and Indonesia with (imperforate) proofs
* Exhibition collection of WWII Postal History - The Kees Adema Collection
* Collection of Netherlands Field Post
* Collection of (early) Netherlands Air Mail
* Bosnia and Herzegowina incl. many proofs - The Gerrit Matthijssen Collection (part 1)
* Original country collections incl. German and British Colonies, Egypt
Corinphila Official Sponsor Hertogpost 2021
Global Philatelic Network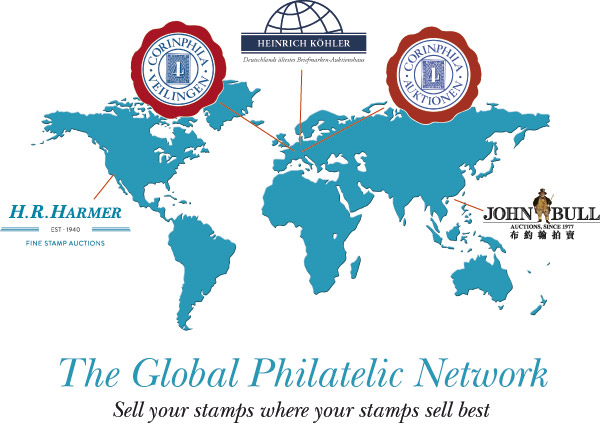 Global Philatelic Network Auctions
Company & Country

Next Auctions

Consignment Deadline

Corinphila Netherlands
Fine Stamp Auctions since 1974

11-13 June 2020
24-26 September 2020
2-3 October 2020

-
24 July 2020
24 July 2020

Corinphila Switzerland
Switzerland's Oldest Stamp Auction House.
Founded in 1919

7-12 September 2020
25-30 January 2021

-
15 September 2020

Heinrich Koehler, Germany
Germany's Oldest Stamp Auction House.
Founded in 1913

23-27 June 2020
17-21 November 2020

-
15 July 2020

H.R. Harmer, USA
Founded in 1940
16 June 2020
6-8 August 2020
11-14 November 2020

-
-
15 August 2020

John Bull, Hong Kong
Hong Kong's Oldest Philatelic Auction House.
Founded in 1977

25-27 June 2020
4-7 December 2020

-
30 September 2020