Stamp, coin and postcard auctions since 1974
Buying and selling of stamps, covers, picture postcards, coins, medals and banknotes.
A specialized auction house usually guarantees the highest results. Partner in the Global Philatelic Network.

Some highlights of the spring auction 2019:
16 & 21-23 March 2019
• Large offer of classic issues of the Netherlands, incl. nice cancellations
• Special offer of pre-philately
• Exhibition collection of Seychelles
• Nice Zeppelin covers
• Many original country collections
• Large offer of picture postcards
• Diverse offer of coins, medals and banknotes
Unopened letter to Otto Frank sold for 9,500 euros
The discovery of the letter had already caused a minor sensation: a letter to Otto Frank, the father of Anne Frank, dated 1942 and still unopened! Now this unique letter, which has caused a great deal of media attention far beyond the country's borders, was sold at the Corinphila Veilingen auction in the Dutch town of Amstelveen on 21 September 2018 after an intense bidding "battle" for a sensational 9,500 euros. The letter was part of a collection of rare documents put together by the collector Stefan Drukker, as a comprehensive documentation of the difficult years of the Second World War.
The letter to Otto Frank - probably a unique testimony of the times - could not be delivered to the former place of residence "Merwedeplein 37" and it calls to mind the most difficult period in the life of the Frank family, their underground existence. This period is described in detail in the diary of Anne Frank, and the sad fate of the family, her life in the hiding-place at the back of the building and the deportation to her death, is now world famous. All this is reflected in the letter recently sold, which has now found its way into the hands of a new owner.
National Stamp Exhibition Gouda 2019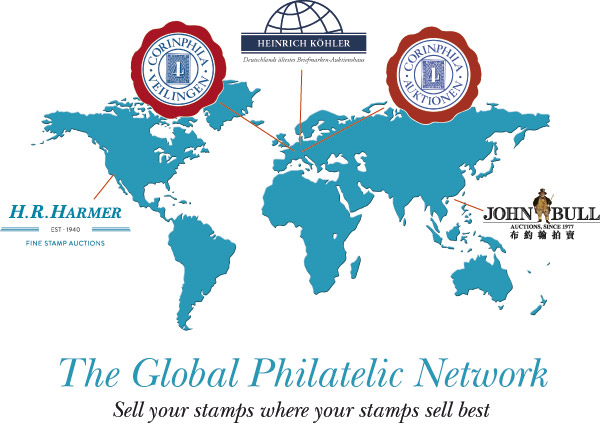 Global Philatelic Network Auctions
Company & Country

Next Auctions

Consignment Deadline

STOCKHOLMIA 2019 RARITY AUCTION
The 150th Royal Philatelic Society London Birthday-Sale
1 June 2019
15 March 2019
Corinphila Switzerland
Switzerland's Oldest Stamp Auction House.
Founded in 1919

11-15 June 2019
Nov./Dec. 2019

15 March 2019
15 September 2019
Corinphila Netherlands
Fine Stamp Auctions since 1974
16 & 21-23 March 2019
11 May 2019
12-14 & 21 September 2019
-
-
15 June 2019
Heinrich Koehler, Germany
Germany's Oldest Stamp Auction House.
Founded in 1913

26-30 March 2019
8 June 2019
17-21 September 2019

15 January 2019
-
15 July 2019

H.R. Harmer, USA
Founded in 1940
4-6 April 2019
29 June 2019
October 2019

31 January 2019
-
31 July 2019

John Bull, Hong Kong
Hong Kong's Oldest Philatelic Auction House.
Founded in 1977
15-17 June 2019
December 2019
31 March 2019
September 2019