Stamp, coin and postcard auctions since 1974
Buying and selling of stamps, covers, picture postcards, coins, medals and banknotes.
A specialized auction house usually guarantees the highest results. Partner in the Global Philatelic Network.
***New Date Auction 244!***
The drastic measures which the Dutch government announced to combat the Corona virus will also affect our auction. Given the spread of the virus and the urgent advice to implement social distancing during this period, this situation prompts us to reschedule our April auction (auction 244).
The auction will therefore be postponed from 2, 3 and 4 April to 11, 12 and 13 June 2020. The viewing days may be able to continue at a later time, taking into account everyone's health. Bids received will remain valid for the postponed auction.
Our office will remain open to handle your bids, image requests and philatelic questions. We continue to take in consignments in our office by appointment. Consignments can also be send to us by registered mail. Please send us the tracking code in this case.
The hobby of philately is ideal as a leisure activity within the safe environment of your four walls. With stamps one brings the world in the home. Browse through our online catalogue with more than 15,000 high-quality images from our upcoming auction.
We wish you good health in these extraordinary times and thank you for your understanding.
Auction 224: 11-13 June 2020
Viewing and auction schedule
Some highlights:

* Netherlands pre-philately with extensive departementstempels
* Netherlands Indies and Indonesia with (imperforate) proofs
* Exhibition collection of WW2 Postal History - The Kees Adema Collection
* Collection of Netherlands Field Post
* Collection of (early) Netherlands Air Mail
* Collection of Bosnia incl. many proofs - The Gerrit Matthijssen Collection (part 1)
* Original country collections incl. German and British Colonies, Egypt
Corinphila Official Sponsor Antverpiade 2020
ANTVERPIADE 2020

28 - 29 - 30 AUGUST 2020
NEW DATE HERTOGPOST 2021!
In consultation with the Brabanthallen and all our sponsors we have succeeded to find new dates for the National Stamp Exhibition HERTOGPOST 2021.
A stamp event where a large traders show is present along with a very special exhibition about the Holocaust.
The Celebration of the 90th anniversary of the 's-Hertogenbossche Philately Society.
The Celebration of the 50th anniversary of USCA, association for USA and Canada Philately.
Corinphila Official Sponsor Hertogpost 2021
Global Philatelic Network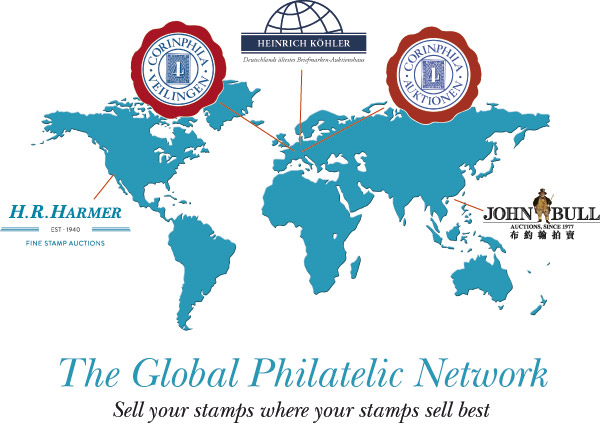 Global Philatelic Network Auctions
Company & Country

Next Auctions

Consignment Deadline

Corinphila Netherlands
Fine Stamp Auctions since 1974

11-13 June 2020
16-19 September 2020
2-3 October 2020

-
15 June 2020
15 June 2020

Corinphila Switzerland
Switzerland's Oldest Stamp Auction House.
Founded in 1919

8-12 September 2020
25-30 January 2021

-
15 September 2020

Heinrich Koehler, Germany
Germany's Oldest Stamp Auction House.
Founded in 1913

13 June 2020
23-27 June 2020
22-26 September 2020
28 November 2020

-
-
15 July 2020
-

H.R. Harmer, USA
Founded in 1940
16 June 2020
6-8 August 2020
11-14 November 2020

-
-
15 August 2020

John Bull, Hong Kong
Hong Kong's Oldest Philatelic Auction House.
Founded in 1977

25-27 June 2020
4-7 December 2020

-
30 September 2020