Stamp, coin and postcard auctions since 1974
Buy and sell your stamps, covers, picture postcards, coins, medals and paper money.
A specialized auction house often guarantees the best results. Partner in the Global Philatelic Network.

Spring Auction 2018: 10 & 15-17 March 2018
At Corinphila you see the proof that philately is alive and well, and that good material is met with excellent results!
The next auction takes place on 10 & 15-17 March 2018 and will again receive international attention with among others the Netherlands Colonies collection of J.F. de Beaufort and a beautiful collection Dutch East Indies banknotes overprinted "SPECIMEN".
The new auction catalogue will be online beginning of February.
You can expect the printed catalogues 2-4 weeks later.
EDITION D'OR vol. 51
The development of postal services in rural areas in the Netherlands over a period of 270 years is exquisitely shown by postal historian Hotze Wiersma in a philatelic-scientific manner. A beautiful book showing a collection that was awarded Large Gold.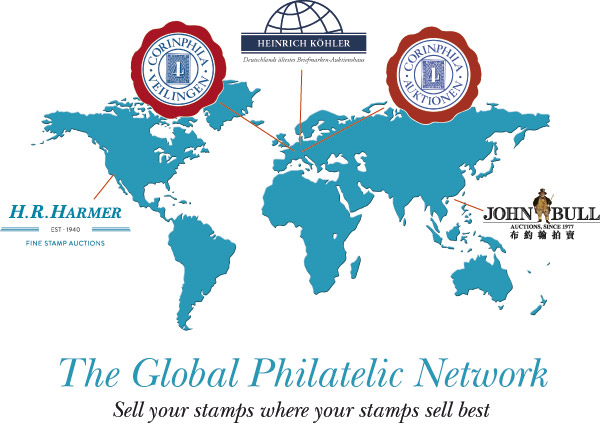 Global Philatelic Network Auctions
Company & Country

Next Auctions

Consignment Deadline

Corinphila Switzerland
Switzerland's Oldest Stamp Auction House.
Founded in 1919

30 May - 2 June 2018
28 November - 1 December 2018

31 March 2018
30 September 2018
Corinphila Netherlands
Fine Stamp Auctions since 1974
10 & 15-17 March 2018
15 & 20-22 September 2018
-
30 June 2018
Heinrich Koehler, Germany
Germany's Oldest Stamp Auction House.
Founded in 1913

20-24 March 2018
25-29 September 2018

-
15 July 2018
H.R. Harmer, USA
Founded in 1940
10-12 May 2018
25-27 October 2018

1 March 2018
7 September 2018

John Bull, Hong Kong
Hong Kong's Oldest Philatelic Auction House.
Founded in 1977
23-25 June 2018
15-17 December 2018
31 March 2018
30 September 2018