Stamp, coin and postcard auctions since 1974
Buying and selling of stamps, covers, picture postcards, coins, medals and banknotes.
A specialized auction house usually guarantees the highest results. Partner in the Global Philatelic Network.
CONSIGN NOW FOR OUR SPRING 2022 AUCTION!
In our September auction the collections of some great Dutch philatelists (Caarls, Boom, Vlot, Frank, de Baar) were sold together with material from 200 other consignors. It was one of our best auctions in many years! The high results were again a very pleasant surprise to our consignors and to us.
Now is the ideal time to sell your collection!
YOUR COLLECTION WILL BE IN THE BEST COMPANY!
Consignment deadline: 31 December 2021
CORINPHILA CARD INDEX NETHERLANDS
CORINPHILA OFFICIAL SPONSOR OF HERTOGPOST 2021
Global Philatelic Network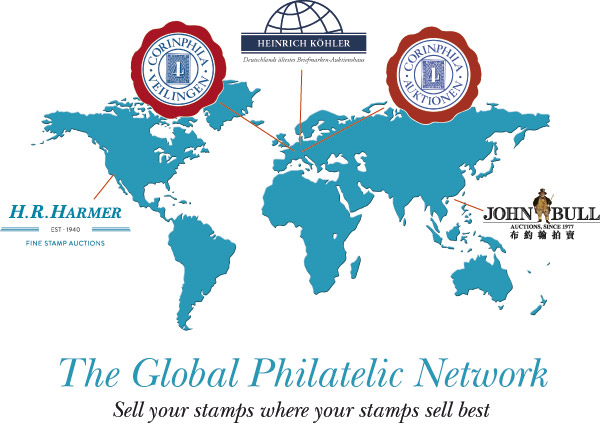 Global Philatelic Network Auctions
Company & Country

Next Auctions

Consignment Deadline

Corinphila Netherlands
Fine Stamp Auctions since 1974

17-19 March 2022

31 December 2021

Corinphila Switzerland
Switzerland's Oldest Stamp Auction House.
Founded in 1919

22-27 November 2021
30 May - 4 June 2022

–
15 March 2022

Heinrich Koehler, Germany
Germany's Oldest Stamp Auction House.
Founded in 1913

21-26 March 2022

15 January 2022

H.R. Harmer, USA
Founded in 1940
December 2021

–

John Bull, Hong Kong
Hong Kong's Oldest Philatelic Auction House.
Founded in 1977

December 2021
June 2022

15 October 2021
15 March 2022