Stamp, coin and postcard auctions since 1974
Buying and selling of stamps, covers, picture postcards, coins, medals and banknotes.
A specialized auction house usually guarantees the highest results. Partner in the Global Philatelic Network.
Auctions 242-243 | 14 & 19-21 September 2019
Some highlights:
Netherlands 1852 - The Gerard van Welie Collection;
Exhibition collection of Postal services in rural areas in the Netherlands before 1850 - The Hotze Wiersma Collection;
Netherlands Indies classic and cancellations;
Specialised Air Mail collection of Netherlands and former colonies;
Large number of single lots and collections of Belgium, France, Great Britain, China and specialised literature.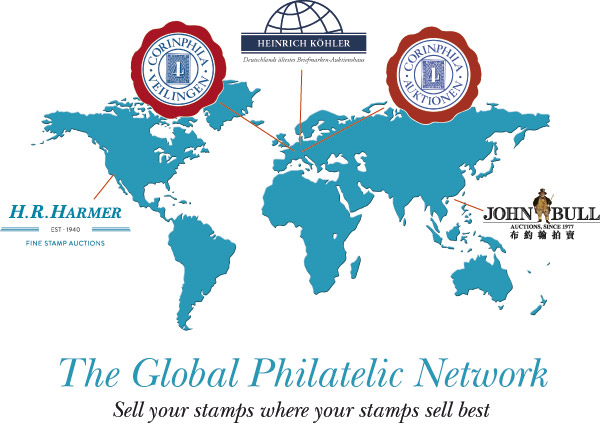 Global Philatelic Network Auctions
Company & Country

Next Auctions

Consignment Deadline

Corinphila Switzerland
Switzerland's Oldest Stamp Auction House.
Founded in 1919

3-7 December 2019

15 September 2019
Corinphila Netherlands
Fine Stamp Auctions since 1974
14 & 19-21 September 2019
-
Heinrich Koehler, Germany
Germany's Oldest Stamp Auction House.
Founded in 1913

24-28 September 2019

15 July 2019

H.R. Harmer, USA
Founded in 1940
October 2019

31 July 2019

John Bull, Hong Kong
Hong Kong's Oldest Philatelic Auction House.
Founded in 1977
29 June-8 July 2019
December 2019
-
September 2019