Stamp, coin and postcard auctions since 1974
Buying and selling of stamps, covers, picture postcards, coins, medals and banknotes.
A specialized auction house usually guarantees the highest results. Partner in the Global Philatelic Network.

| | | |
| --- | --- | --- |
| | | |
Live bidding in our auction is easy and exciting!

Register | Request credit limit



Follow the auction without registration.
You see and hear the auctioneer as a pop-up.
PLEASE NOTE! In case you don't hear any sound, please click with the mouse on the auctioneer in order for the sound to activate.
If your screen goes into "sleep" mode, you can best activate it with your mouse. Pressing the enter or space keys could possibly lead to a bid.
You cannot use the bidding program simultaneously

on

multiple devices

.

We recommend to use Google Chrome as your internet browser.
Corinphila Official Sponsor of Exhibitions
Global Philatelic Network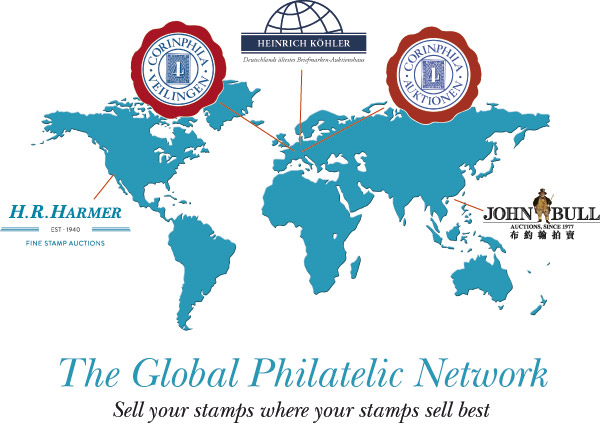 Global Philatelic Network Auctions
Company & Country

Next Auctions

Consignment Deadline

Corinphila Netherlands
Fine Stamp Auctions since 1974

24-26 September 2020
2-3 October 2020
8-10 April 2021

-
-
31 December 2020

Corinphila Switzerland
Switzerland's Oldest Stamp Auction House.
Founded in 1919

25-30 January 2021
18-22 May 2021

15 November 2020
12 March 2021

Heinrich Koehler, Germany
Germany's Oldest Stamp Auction House.
Founded in 1913

16-21 November 2020
23-27 March 2021

-
15 January 2021

H.R. Harmer, USA
Founded in 1940
8-10 December 2020
May 2021

30 September 2020
15 March 2021

John Bull, Hong Kong
Hong Kong's Oldest Philatelic Auction House.
Founded in 1977

12 December 2020
15 January 2021

31 October 2020
10 November 2020